If you read between the lines of my last post, this one will come as no surprise. I'm pleased to announce the upcoming publication of Book 3 of the Annals of Altair: Oliver Invictus arrives on September 18, 2019.
You can pre-order the ebook HERE. Hooray!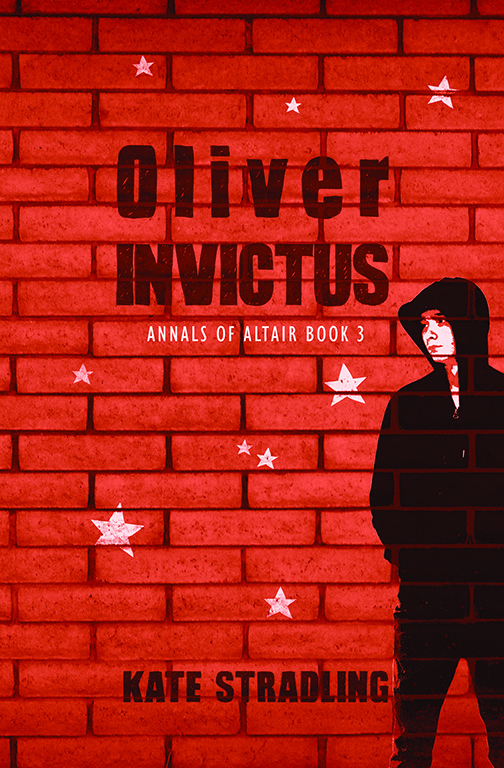 Summary: Oliver Invictus
Dead at Fifteen

Oliver Dunn's life is officially over. Pulled from his bed in the black of night, he's headed for the Prometheus Institute's mysterious shadow campus, where anomalies like him vanish forever.

But no sooner does he leave Prom-F than the school descends into chaos. The student body revolts, classmates make a break for freedom, and one silent, powerful projector among them corrals the adults into a hive-minded collective of slaves.

Yanked back from his impending doom, Oliver's mere presence restores order. The Prometheus heads demand that he ferret out the rogue projector, but he'd rather die than cooperate.

His life is already over. They can't threaten him with any fate worse than his own. But they can threaten the one person in the world he actually cares about: his former handler, Emily Brent.
If you haven't read the first two books of this series, that summary might raise a lot of questions. If it's been a while since you read them, ditto. Because I'm a giver, I'll go ahead and post links for those two books as well:
Book 2: A Rumor of Real Irish Tea
That's it for the announcement part of this post. A new book! Go forth and pre-order!
Or, if you're game, stick around and read on.
Background Notes
I always considered the Annals of Altair complete at 2 books. This is apparent in their structure, which is pinned to the US Constitution. A Boy Called Hawk uses the main body for its chapter numbering (Preamble, Articles, and Sections) and A Rumor of Real Irish Tea uses the amendments (27 in all).
My younger self thought it was funny to have the Constitution as a meaningless frame for a hypothetical future in which that document itself had become meaningless. Actually, my current self thinks it's funny too.
So.
A third book was not on my radar. What was I supposed to pin it to, the tax code?
The Plot Thickens
Still, I had family members that asked for more, and I knew that more happened beyond the scope of those first two books. Besides, if the original structure was meaningless, and meaninglessness was the point, then abandoning it for a meaningless chapter-numbering system would be fine.
Confident in that reassurance and the knowledge that I don't have to publish everything I write, I tackled a third book for NaNoWriMo.
Back in 2015. (Seriously did not realize it was that long ago, but the timeline checks out. Tsk tsk, Kate.)
The story stalled at the third act, as my stories chronically do. I played with it a bit over the years, but it was definitely a back-burner project.
Why?
Well, I'll tell you.
This series gets the least amount of traffic among my literary canon. Not a surprise. It's dystopia lite instead of the gossamer fantasy that is my usual fare, so it's easily skipped. It was also more like a personal art project than a commercial endeavor. Hence, for a while, I saw it as my weakest link.
We don't draw attention to the weakest link.
But I truly love the story and its cast of characters—on both sides of the conflict. My initial vision to spin a yarn about four kids escaping an oppressive government morphed into a tale about the rotten little antihero tasked with bringing them back. By the end of the second book it was clear that Oliver and Emily were more the main characters than Hawk, Hummer, Honey, and Happy. I've always known what became of them afterward, and part of me always wanted to write it.
However, it seemed self-indulgent to work on a book that strayed so far from my perceived fantasy brand, and that few people—if any—actually wanted to read.
So what changed?
For my birthday last year, I sat down and conducted an inventory of my writing: unpublished projects, planned-but-unwritten projects, and works-in-progress. The list was kind of a slap in the head: I had 20 books in some form of development, not including my notebook of story kernels, and not including the six published books I still needed to switch over to my imprint.
The creative pile-up weighed me down. When you have too much debt, you get rid of the smallest one first. Thus, Oliver Invictus, 75% complete, moved up in the work queue.
(As a side note, the idea for Soot and Slipper hadn't even occurred yet. I'm not great at managing my plot bunnies.)
The final impetus to complete the draft came from a comment on my blog last April. It's one thing for people you know to ask for more of your work—there's always a voice at the back of the head saying they're only being polite, or that it's their way of expressing a compliment. It's quite another for a stranger to speak up. That's a call to action.
And, as it happens, answering that particular call was within my ability. So.
Long story short (too late)
I estimate that roughly twenty people outside my own family might actively want this book. I hope more than that will read and enjoy it, but if its total market saturation is only those twenty, I still consider it time and effort well invested.
Mostly because I want this book.
Whether Oliver Invictus has a large audience or a small one, I'm excited for its readers to experience the next leg of this upside-down world.
And why September 18th?
It's Oliver's birthday. It seemed a fitting day to bring his story to light.
♥