On the fifth day of Christmas, my true love gave to me…
In Her Dreams by Joanna Reeder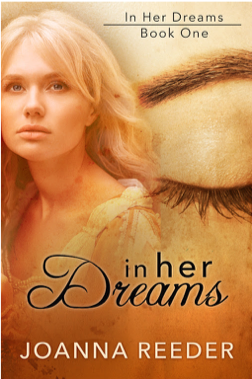 So, I have this curse… I experience the memories of dead people while I sleep.
One second I'm dreading that midterm in the morning, and the next I'm attending a ball that could be the movie set of an Austen or Bronte novel.
Pretty cool right?
Did you catch that I call it a curse?
See, not everyone lives a life full of joy, true love, and happy endings. Sure, I get to re-live the good memories. But I also get to experience pain, heartbreaks, and sometimes even death.
For a long time, I had zero friends so when I dreamed of Victorian-era Lucy (who just got engaged… eek!) I had an escape. And then Lucy met her future cousin-in-law, Andrew. **swoon**
My life felt less… tragic when the Lucy dreams started. Oh! And I met this new boy, Duncan and finally had a friend. (He's easy on the eyes too…**sigh**)
But one night I changed the outcome of one of my dreams by accident and shifted my reality in a major way, so now I have to make some important decisions about choices and control. And what I believe is right.
About the Author
Joanna Reeder creates scintillating but clean YA novels while chasing 3 littles and a hubby. "A Dr. Pepper a day keeps insanity away!" Joanna grew up and lives in Northern Utah. She graduated with a Bachelor's degree in English from the University of Utah.
In Her Dreams is the first in the In Her Dreams trilogy.  Trapped In Her Dreams (Book 2) and Purpose In Her Dreams (Book 3) are FREE on Amazon through Kindle Unlimited.
Joanna is currently working with three other authors on a collaboration universe about a school for shifters. The first in the universe, Shifted, (Book 1 in the Siren Prophesy) released January 8, 2019.
Grab your Fifth Day Giveaway
In Her Dreams is free on Amazon TODAY ONLY, December 18:
https://www.amazon.com/dp/B079ZMV7XK/