Heads up, my lovely readers! In honor of the Christmas season, for the next 12 days, I bring news of 12 free ebooks! These titles are only free for one day each, so grab them quick!
On the first day of Christmas, my true love gave to me…
Ideal High by Valerie Ipson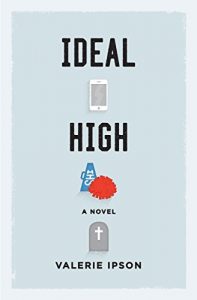 a tragic fire
a grieving student body
a class vice president forced to read the names of the dead at a memorial
What a way to start a senior year…
Taryn's decided there's no way she's taking her late boyfriend's place as president of the student body. As soon as the memorial for him and six of their friends is over, she's resigning as VP. Really.
Until someone scribbles a disturbing list on a bathroom wall: WHO DESERVED TO DIE IN THE FIRE? The bullied Tim Jenks' name tops the list, but more are quickly added. Taryn knows what it means. To get to the truth she has to come out from under her paisley comforter where she spent all summer, and go from grieving girlfriend to leading the fight against lies and bullies.
But, seriously, what stage of grief says Taryn has to be the one to fix what's wrong at Ideal High? Maybe she's the one who's broken.
Grab your First Day Giveaway
Ideal High is available for free on Amazon TODAY ONLY, December 14th:
https://www.amazon.com/dp/B00U1Q0QO8