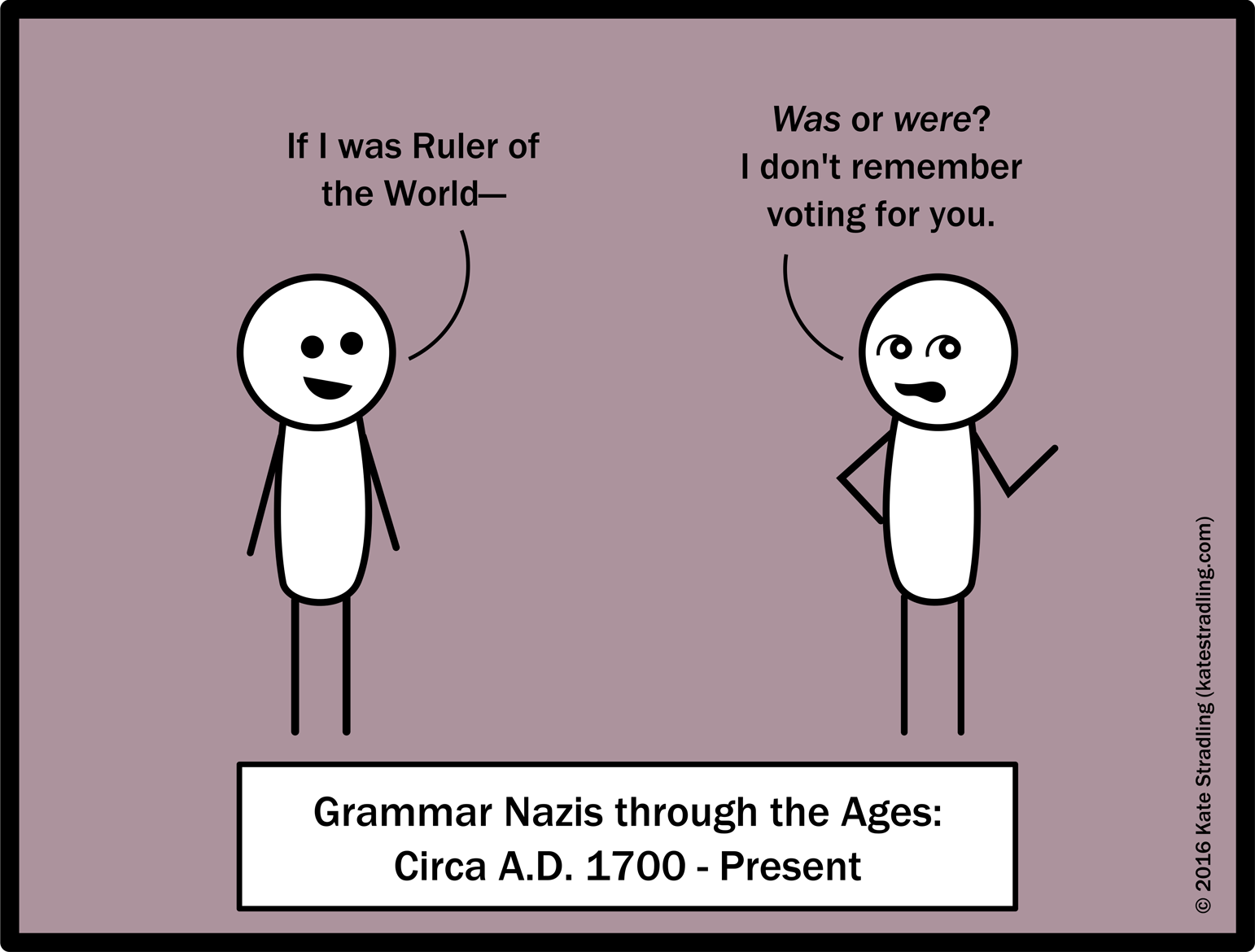 If English language elements are a collection of family members, the Subjunctive Mood is the sickly great-uncle, bed-ridden and lingering at death's door for ages upon ages, and just when you think he's finally kicked the bucket, BAM! He rears his hoary old head and demands a pudding cup.
(No offense intended to any sickly great-uncles out there. Please enjoy your pudding.)
The "was" vs. "were" debate is by no means of recent origin. It started to emerge sometime in the 1600-1700s, but the transition began gradually enough that it's still happening to this day. And the thing is, no one uses one or the other consistently. No one.
The Subjunctive Mood
Moods, in language, refer to the speaker's disposition towards the words they're saying. The Indicative (AKA the Declarative) is the default mood; there's also the Imperative (which only has a 2nd person form because it's demanding action from someone else), the Interrogative (for asking questions), the Conditional (for that non-committal speaker), and the good ol' Subjunctive.
The Subjunctive Mood expresses hypotheticals. Or, at least, it's supposed to. But since it's been dying out in English since the Dawn of the English Language (yes, really), it mostly gets trotted out when some pedant wants to put someone they don't like in their place, grammatically speaking.
The identifying hallmark of the Subjunctive is that it carries no inflection. Present Subjunctive is the root verb; Past Subjunctive is its plural past-tense form; Future Subjunctive gets the modal "should" (recall that the "mod-" in "modal" is actually "mood" [OE mod] and that modals exist to convey the speaker's grammatical Mood). So, the subjunctive forms for the verb to run would be as follows:
Present: if I/we/you/he/she/it/they run
Past: if I/we/you/he/she/it/they ran
Future: if I/we/you/he/she/it/they should run
Basically, in Modern English, the only place this mood could actually show up as different from the Indicative is in the 3rd person singular present expression (e.g., if he run, if she run, if it run).
Unless!
Unless we're talking about a most irregular verb.
To Be or Not To Be
The etymology of our strangest and most common verb, to be, is a fascinating tangle. A hybrid of two Old English verbs, beon and wæron, its Indicative Mood displays inflection in every singular present tense, and a separate form for plural present, past singular, and past plural:
Present Singular: I am, you are, he/she/it is
Present Plural: we/you/they are
Past Singular: I/he/she/it was
Past Plural: we/you/they were
The Subjunctive forms are, again, the root for Present Subjunctive, the plural past tense for Past Subjunctive, and the modal "should" for Future Subjunctive:
Present: if I be
Past: if I were
Future: if I should be
That's right. Proper use of the Subjunctive demands that you use "if I be" for present-tense hypotheticals.
"If I be late to the restaurant, order without me," said no one within the past three hundred years.
Remnants of the Present Subjunctive survive in idiomatic usage (e.g., "be that as it may") and colloquial speech (e.g., Yosemite Sam out lookin' fer a fight), as well as more archaic references, such as the giant's rhyme from Jack and the Beanstalk: "Be he alive or be he dead / I'll grind his bones to make my bread."
Past Subjunctive has proved a little more hardy: "if I were," "I wish I were," "as though he were," etc. still survive in everyday speech, but was has steadily crept into that territory. One theory is that, because was gives more certainty to the sentence, it started being used for emphasis: "I'm not this, but if I was…"
Regardless of the cause, Subjunctive were has become marked as an oddity, yet it clings to its role with a death-grip. For every song lyric that starts "If I was," there's an armchair grammarian in the wings gnashing their teeth against the usage.
But, again, only if they dislike the band. We're very quick to condemn those we wish to find fault with and to excuse the ones we love.
Final Thoughts
Whether the Subjunctive eventually dies its long-drawn death is anyone's guess. At this point, it's mostly personal preference that dictates whether someone uses it or not. And, frankly, calling someone out for their non-use is like criticizing them for not liking carrot cake: it's pointless, fruitless, and—ultimately—counter-intuitive. It breeds hyper-correction and contempt, neither of which are good for cooperative communication.
In my estimation, where Subjunctive were is concerned, it's best to live and let live. Or die, as the case may be.
*Fun Note: The song that's linked on the words "If I was" above casts off the Past Subjunctive in its chorus but preserves the Present Subjunctive in the lyric "Be I a poor man or a king."