And finally, on the twelfth day of Christmas, my true love gave to me…
Storm Child by Melanie Mason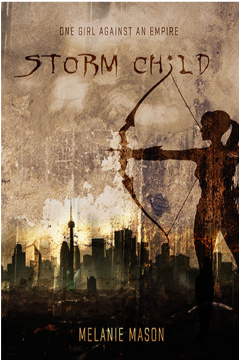 To escape capture by Imperial soldiers, 16-year-old Eridale Storm leaves the only home she's ever known and drags her younger sister into the wilds of Mericon—the Empire that formed when America collapsed. Hoping to find safety with their mother who disappeared when Eridale was three, the girls follow clues that lead them across the country, but the empire hounds their every step.
The journey draws Eridale deeper into the conflict between the Empire and the rebel Freedom Fighters, producing questions about Eridale's heritage, questions no one wants to answer.
Caught between the threads of deception, rebellion, and betrayal, Eridale struggles to find out who she is. The answers she finds could lead the country back to freedom or shackle them under the imperial throne forever.
Storm Child is Book 1 of a four-book series.
About the Author
Melanie Mason is an author, designer, and flight attendant all rolled into one. She graduated from Utah State university with a degree in communications. She has told stories all her life and finds her passion in sharing the plots that spin through her head. She hopes to be on an airplane one day and see someone reading one of her books. Melanie lives in Portland, Oregon—with her two dachshund Chihuahua dogs—where the beauty of the Pacific Northwest feeds her imagination, and the rainy winter evenings encourage her to curl up with hot chocolate and a good book.
Grab your Twelfth Day Giveaway
Storm Child is available for free TODAY, December 25, on Amazon: https://www.amazon.com/dp/B076HY9WJN/
Merry Christmas, everyone!