The mystery genre requires careful threading of information from character to character, between narrator and reader, and from author to audience. And Agatha Christie, as the queen of mystery, has mastered the subtle art of misdirection.
Hence, she's the perfect author to study for breaks in the Cooperative Principle on multiple levels of dialogue.
SPOILER ALERT: This post includes some serious spoilers. On the one hand, Christie's work has been out for decades, and this is a discussion on craft. On the other, spoiling a Christie novel is almost a capital offense. If you've not yet read the following titles and you want to read them without external cues, kindly skip this post and come back when you're ready.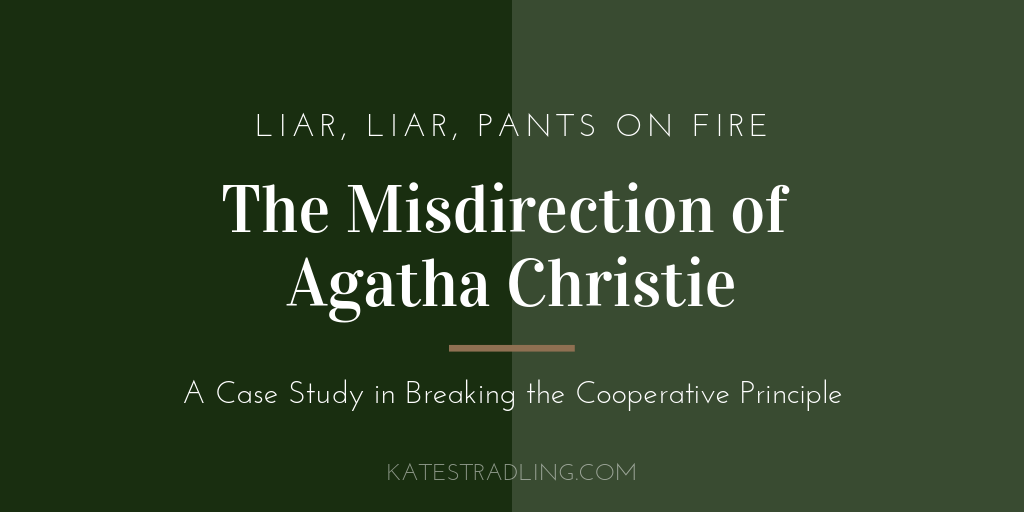 Misdirection #1: The Murder of Roger Ackroyd
The Murder of Roger Ackroyd is an icon of the whodunit genre. Our 1st Person narrator, Dr. Sheppard, records events surrounding the death of the eponymous Ackroyd, along with the exploits of the famous Hercule Poirot in uncovering the murderer.
And oh, is the misdirection strong.
Early in the narrative we have the following exchange, in which Ackroyd and Sheppard discuss a letter just received by the soon-to-be-murdered man. The letter contains the name of a blackmailer, and its writer, a friend of Ackroyd's, has already killed herself because of the wicked soul.
Ackroyd, his finger on the sheet to turn it over, paused. "Sheppard, forgive me, but I must read this alone," he said unsteadily. "It was meant for my eyes, and my eyes only." He put the letter in the envelope and laid it on the table. "Later, when I am alone."

"No," I cried impulsively, "read it now."

Ackroyd stared at me in some surprise.

"I beg your pardon," I said, reddening. "I do not mean read it aloud to me. But read it through whilst I am still here."

Ackroyd shook his head. "No, I'd rather wait."

But for some reason, obscure to myself, I continued to urge him. "At least, read the name of the man," I said.

Now Ackroyd is essentially pigheaded. The more you urge him to do a thing, the more determined he is not to do it. All my arguments were in vain.

The letter had been brought in at twenty minutes to nine. It was just on ten minutes to nine when I left him, the letter still unread. I hesitated with my hand on the door handle, looking back and wondering if there was anything I had left undone. I could think of nothing. With a shake of the head I passed out and closed the door behind me.

Agatha Christie, The Murder of Roger Ackroyd, Chapter 4
Analysis
So here we have the murder of Roger Ackroyd. Not just the book, but this particular passage. The narrator is the murderer, and he kills Ackroyd in that ten minute interval between when the letter arrives and when he leaves. (I told you there were spoilers.)
But he's masterfully breaking the Cooperative Principle on both the character-to-character and the narrator-to-reader layers of dialogue.
Maxim of Quantity
Sheppard withholds information by being vague ("if there was anything I had left undone"). He also gives too much information about Ackroyd's stubborn character and his own concern for the man.
Maxim of Quality
Sheppard lies: "But for some reason, obscure to myself, I continued to urge him." He knows Ackroyd is pigheaded. He doesn't want him to read the letter because it has his own name in it, so he urges him to read it, knowing that will make him refuse.
Manipulation at its finest, in other words.
Maxim of Manner
His false sincerity toward Ackroyd (making excuses for Ackroyd's behavior) belies his true intents; his insistence for Ackroyd to reveal the blackmailer's name implies his own innocence to the reader, too. Why would a guilty man urge his own unmasking?
Maxim of Relevance
By focusing so keenly on the letter ("It was just on ten minutes to nine when I left him, the letter still unread."), Sheppard indicates that it's the most important element of this scene. This misdirection is especially brass because Ackroyd is already dead.
But sure, tell us about the letter. That seems relevant.
This is the scene that first-time readers inevitably flip back to when they reach the grand reveal. Sheppard, the unreliable narrator, presents a picture of honesty and forthrightness, but his perfidy was between the lines all along.
Misdirection #2: The Secret of Chimneys
One of Christie's lesser-known tales, The Secret of Chimneys is actually my favorite of her novels. Some of its characters reappear in her other work, but the book itself is a stand-alone rather than part of any of her serials. It has a light-heartedness despite being a murder mystery, and some fairytale elements render it a delightful read.
Best of all, it begins with a deceptive wink toward the reader.
Chapter 1: Anthony Cade Signs On

"Gentleman Joe!"

"Why, if it isn't old Jimmy McGrath."

Castle's Select Tour, represented by seven depressed-looking females and three perspiring males, looked on with considerable interest. Evidently their Mr. Cade had met an old friend.
This is misdirection from line 1. We know from the chapter title that our hero's name is Anthony Cade. We know from the third paragraph on that he is the person referred to as "Gentleman Joe." After his conversation with McGrath ends, the nickname leads to the following exchange between him and one of his Castle's Select tourists.
"Is your name Joe?"

"I thought you knew it was Anthony, Miss Taylor."

"Why does he call you Joe, then?"

"Oh, just because it isn't my name."

"And why Gentleman Joe?"

"The same kind of reason."

"Oh, Mr. Cade," protested Miss Taylor, much distressed, "I'm sure you shouldn't say that. Papa was saying only last night what gentlemanly manners you had."

Agatha Christie, The Secret of Chimneys, Chapter 1
Analysis
Within the opening scene of this novel, Ms. Christie calls into question her hero's identity and then immediately reestablishes it. Of course he's Mr. Cade. Who else would he be?
As the story unravels, the reader takes it for granted that the hero knows things beyond the scope of what a mere Anthony Cade might know. He's clever and quick-witted and affable. He's lived abroad and encountered lots of people and cultures. When characters' identities start getting called into question, we can count on him to be who he says he is.
…Or can we?
Other characters begin to speculate on Mr. Cade's true identity, and the reader has this scene playing in the back of their mind. He answered to a different name. Does anyone really know who this person is?
Christie both foreshadows and disarms that foreshadowing, so that the truth emerges in a delightful plot twist.
Maxim of Quantity
The abundance of attention paid to Anthony Cade's name in the first chapter seems to point to his authenticity instead of away from it. But this is a case of TMI. Instead of reassuring us, it should spike our suspicions.
Maxim of Quality
Our hero never actually tells Miss Taylor his name. He hedges around it by saying he "thought [she] knew it was Anthony." While what he says is technically true, it also leads her—and the reader—to believe something false.
Maxim of Manner
Mr. Cade's vague manner of speaking allows those around him to assume they know who he is. So, too, does the narrator's ambiguity allow the reader to make assumptions about his identity.
Maxim of Relevance
The nickname itself, Gentleman Joe, gets played off as a bit of playful sarcasm. In fact, it's an insight to Anthony's character, that he comes from different origins than he pretends.
So who is he really? The infamous jewel thief, King Victor? The missing-and-presumed-dead monarch of Herzoslovakia? Or simply an old Oxford boy drawn into an adventure of murder and mayhem?
This one I won't spoil, except to say that he's not Anthony Cade.
Misdirection #3: Her Real Freaking Life
In December 1926, at the age of 36, Agatha Christie disappeared. Her car with her coat in it lay abandoned on a hillside above a chalk quarry.
Was it a publicity stunt? An abduction? A suicide attempt?
No one knows. Eleven days later, she turned up in a hotel in Harrogate, where she'd checked in under the name of her husband's mistress. While a massive manhunt searched the countryside for her, she'd been attending evening parties and other such events.
She claimed amnesia and never spoke of it again.
Speculation has abounded, that she crashed her car and lost her memory, that she tried to commit suicide but had a change of heart, that she faked her disappearance to make her philandering husband the center of a murder investigation. Personal events in her life at the time pointed toward emotional upheaval: her mother had recently died, her husband wanted a divorce.
But the episode remained shrouded in mystery.
When, decades later, she dictated an autobiography, audiences expected some revelation about this period to emerge.
Christie opted out. She didn't even mention it.
But really, what better badge of honor can the most successful mystery writer of all time have than an unsolved mystery in her own life?
Conclusion
Christie is a master of misdirection because she uses her audience's truth bias and cooperative defaults against them. She drops subtle clues and then plays them off as nothing important, and we believe her.
And thus, she fulfills her Author-Audience contract to a tee. She tells us a gripping yarn, and twists a knife in our backs when we least expect it.
***
Up next: Final Thoughts
Previous: Breaking the CP on 3 Layers
Back to Liar, Liar Navigation Page